Our Preferred Automotive Detail Shop located in Grand Haven MI is now an Authorized Application Center of Gliptone GT Quartz Nano Ceramics Car Protection. GT Quartz is very user friendly compared to other products on the market. Your vehicle will remain cleaner longer between washes and more resistant to contaminants than conventional waxes or sealants. Safe to use on all clear coats, single stage paint, fiberglass, plastic trim and metal wheels.
Benefits of GT Quartz Vehicle Surface Protection:
Enhanced Scratch Resistance
Faster & Easier Wash Maintenance
Self Cleaning Properties
Up to a 3 Year Limited Warranty
Protection from dirt, tar, bugs and bird droppings
"Lotus Effect" allows for fewer drops remaining on the surface
Extremely High Gloss Finish
100% UV Protection
Protection from Micro Scratching
Resistance to Road Salts
---
TECHNOLOGY
The Nano Ceramic Coatings are based on Nanotechnology, which is the science of working with very small particles, defined as 1 billionth of a meter or smaller. Gliptone's Nano Ceramic Coatings are made with a base of Silicon Dioxide (SIO2), with our premier product enriched with Titanium Dioxide (TiO2). Silicon Dioxide is most commonly found in nature as Quartz and when formulated into a ceramic coating, a chemical bond is created with the surface. The fact that it has been made in Nano scale allows it to fill in the microscopic pores in your factory clear coat. What does all this mean? It means Nano Ceramic Coatings create a strong protective surface that is semi-permanent, super hydrophobic, easier to clean and maintain, and significantly enhances the appearance of both gloss and matte finishes.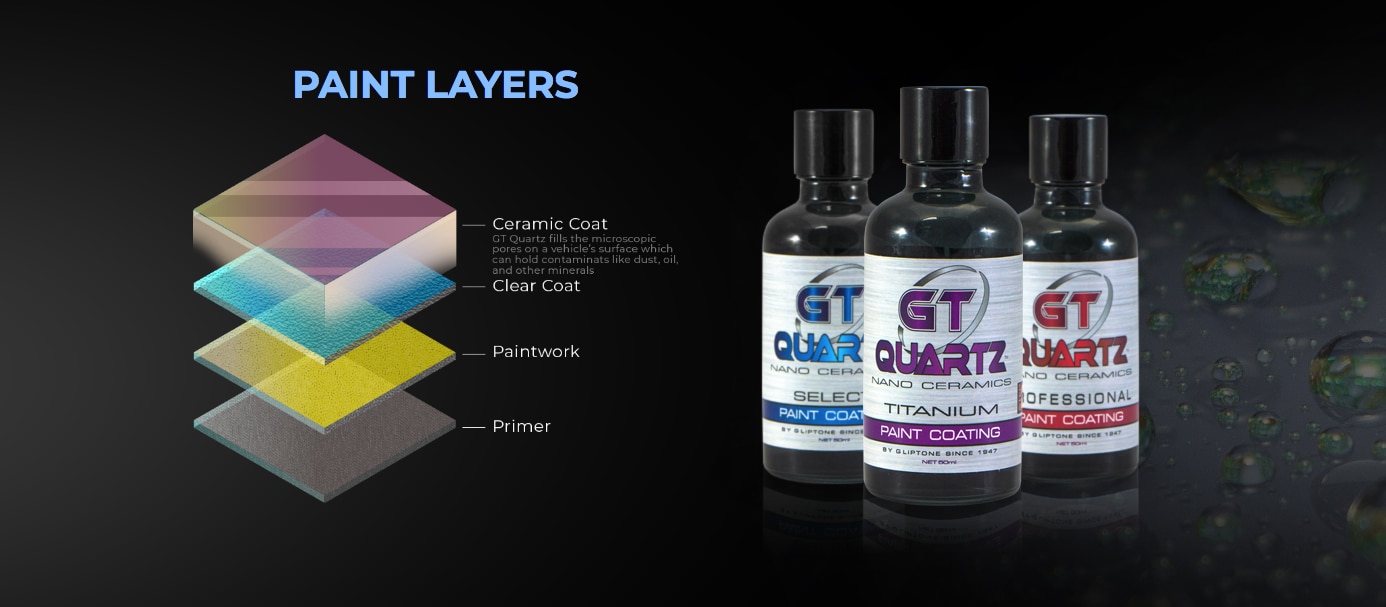 AVAILABLE SERVICES:

---

---